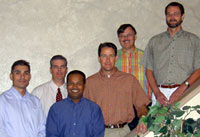 Firm Leadership
Timothy P. Huff & Associates, Inc. has four California State Licensed Architects all are share holders in the professional corporation.
Timothy P. Huff, AIA
Founding & Principal Architect
Timothy P. Huff is a California State Licensed Architect (#C15527) with 26 years experience in the Architectural Profession. Tim was raised in Modesto, went on to graduate from Cal Poly, San Luis Obispo, California 1980 with a Bachelor of Science in Architecture degree. As one who was always interested in construction, he has a variety of hands on building experience which helps him to be practical in his approach. Mr. Huff continues as president of the successful Architectural practice he established in 1988.

John S. Hedlund, AIA
Project Architect
John Hedlund is a California State licensed Architect (#C26916). John was born and raised in Modesto, CA. A graduate of Riverbank High School, John's strong artistic skills and appreciation for the art of building helped him decide to pursue a career in architecture. John was a business major at Modesto Junior College. Upon completing courses at MJC he studied architecture at the Phoenix Institute of Technology, where he graduated with honors. John returned to Modesto in 1988 working at local architectural firms. In 1997 he joined Timothy P. Huff & Associates Inc.
Larry Bell, AIA
Design Architect
Larry Bell is a licensed California State Architect (#C10997) California Polytechnic State University, San Luis Obispo, Bachelor of Architecture Degree, 1976. He began his professional career working for various architectural firms in San Diego. Prior to employment with Timothy P. Huff & Associates Inc. Larry, partnered an Architectural, Land Planning and Interior Design group and established a second Design Firm specializing in residential, small commercial design and residential development consultation services. Larry joined the firm in 1999.
Jeffrey E. Morris, AIA
Project Architect
Jeff is a licensed Architect(#C30228)Oral Roberts University, Tulsa, OK, Bachelor of Science in Graphic Design, 1989, graduating Magna Cum Laude. Jeff Morris is a southern California native who has lived in the Modesto area for over 30 years. While attending Downey High School and Modesto Junior College, Jeff gained a variety of hands-on construction experience in both residential and commercial applications. This experience has proved to be a valuable asset in proposing practical design solutions. Jeff has been with the firm since 1996.